We Treat You Like Family
Spinal Surgery | Pain Management | Non-Surgical Orthopedics
Consider Laser Surgery
AllSpine Laser Spine Center with multiple locations provides laser spine surgery, traditional spine surgery, pain management and non-surgical orthopedics. We provide guidance and second opinions for patients who don't find relief through other traditional outlets.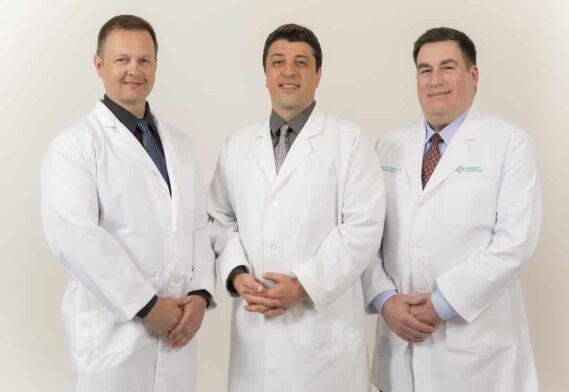 Discover Artificial Disc Replacement
Back pain and neck pain are among the most common complaints heard by primary care physicians. Learn more about how we can help you with artificial disc replacement procedures.
Open MRI Imaging
Whether you have suffered from chronic spinal pain, a recent back or neck injury as a result of an accident or extremity pain or injury, you may need an MRI to properly diagnose your condition. Our new and advanced MRI machines offer a completely open design, helping claustrophobic patients.
Welcome to AllSpine Laser & Surgery Center
Trusted Spine Surgeons with 5 locations in Metro Atlanta.
Since 2001, AllSpine Laser & Surgery Center has been providing state of the art laser spine surgery and treatments for patients in Stockbridge, Newnan, Decatur, Marietta and the surrounding areas. If you have been referred to us by your primary care doctor, our spine surgeons are fully qualified to provide the best neurological services for your condition. We begin with a consultation with your spine doctor so you can best be prepared for the day of your laser spine surgery. Our goal is to help our patients find the pain relief and renewed health and wellness they deserve.
Treatments For Spinal Conditions and Back Pain
If you have been suffering from debilitating back pain or neck pain, laser spine surgery could be the ideal solution. Our spine doctors and staff are highly trained and can help you to resolve your condition. Your back pain or neck pain could be attributed to sciatica or a herniated disc. PLDD (Percutaneous Laser Disc Decompression) can offer the much-needed pain relief you need. We can provide minimally invasive treatments for these conditions without the need for invasive surgery.
Atlanta Spine Surgeons
We service the Atlanta metro area as spinal specialists, and use our decades of medical experience treating spinal conditions to provide help to Atlanta residents. Our aim is to guide you through the treatment process while restoring your mobility, and resolving any symptoms you have.
As your pain management doctor, we will help you to find the best solutions and treatments for your condition. Patients turn to us for a wide range of treatments for many different conditions including steroid and non-steroid injections, artificial disc replacement, and Pain Management.
Schedule an Appointment at Our Spine Center
Contact AllSpine Laser & Surgery Center to learn more about our laser spine surgery services. We offer same-day appointments on referrals. Give us a call at (770) 997-0600 to schedule an appointment at one of our five convenient locations!
I was pleased with the service from start to finish. After my procedure yesterday, was so pleased with the attention and explaining to as to… Read more "Bob Parks"
Bob Parks
March 22, 2023
Dear Dr. Troxler, I can't begin to thank you enough for sticking with me through my back ordeal. As you know I have recently had… Read more "Theresa R."
February 23, 2023